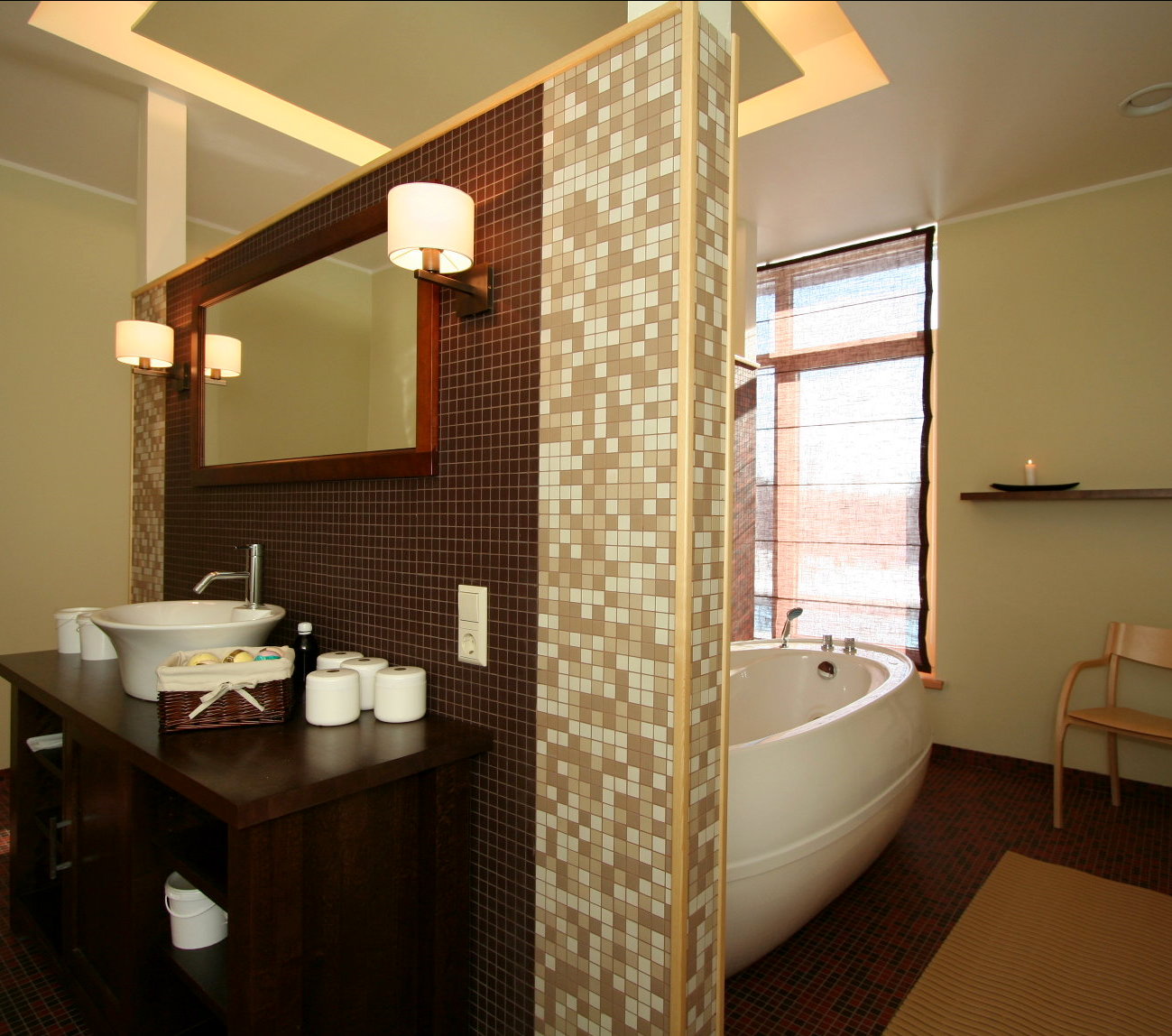 This holiday we decided to pamper ourselves and went to Sigulda where we used the special offer "Spring Awakening" (LVL45) of hotel "Ezeri" which included an overnight stay in double room in "Flower House" and a sauna - swimming pool complex without time limit.
Around 14:00 we moved into our room with a view on the orchard which is silent and grey still not completely awoken from the winter sleep. There was no snow almost at all anymore, only large water puddles at the roadside. However, the cold wind raged outside the window, forbidding us to enjoy the first warm spring sun.
The sauna complex was great with a sauna and a steam bath, as well as with a rather large and shallow swimming pool, small swimming pools with pebbles and outdoor Jacuzzi. Everything was clean, tidy and handy. We spent little time in the outdoor Jacuzzi because the cold spring wind hurt our ears but we used the sauna and indoor swimming pool two or three times. The tension we felt vanished and we decided that we will return to this place but only to enjoy the sauna and the pool.
Then we visited the hotel restaurant "Seasons", where we enjoyed some salad and drinks. We were pleasantly surprised by the original serving. Simple crunchy salad was served to me in a thin peculiar pastry shell.
At 18:00 p.m. I went to the SPA complex one more time to enjoy the procedure "Strawberry charm" (LVL35) - a gift from my colleagues. Upon arrival I got a bathrobe, towel, disposable g-strings (this time everything was included). The procedure consisted of four parts. At first, I was escorted to the bathroom, where I could relax in a Jacuzzi for 20 min., which had a large strawberry bath ball in it. Then the masseuse came who escorted me to the massage room, where I enjoy 30min. of body scrubbing. 40-50min. full body massage with strawberry butter followed. At the end I spent 10-15 minutes in the rest-room enjoying a strawberry cocktail. A fantastic feeling! My skin after the SPA procedure was soft, smooth, tender and the strawberry aroma lasted for two days.
We had dinner at "Seasons", which, unlike the daytime when everything was quiet and only 2 tables were occupied, was now filled with blues sounds, almost every table was occupied by noisy people and two waiters were running around. Dinner with wine, main course and dessert costed around LVL30. The food was great, but I didn`t like the Argentinean wine - La Chamiza Mendoza Chardonnay 2009.
Overall, a very nice and relaxing weekend. Away from the computer and daily routine. A nice little place, just 40min (51km) away from the city. I recommend!