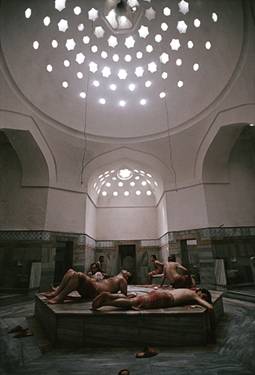 The idea to go to a Turkish bath or hamam belonged to two ladies from our Istanbul trip group. As nothing like that was mentioned in the programme, we were not prepared for this idea, but immediately accepted it being driven by curiosity. Our guide Ibrahim immediately agreed to organize a trip to Suleymaniye Hamam in the evening, which is located next to Suleymaniye Mosque. The bath was designed and built in 1550 by architect Sinan. This is the only bath that men and women can attend together because it is just for tourists, locals never go there.
And so on Friday night a group of 12 people were taken to hamam in a van, where we were welcomed by a Turkish boy in national clothing. At the beginning the administrator asked us to wait for a couple of minutes and wanted to know which language we better understand, also gave us written rules of the procedure - the number of premises, such and such procedures. It seemed that no one was really interested in them. Then we all took off our shoes and climbed into wooden flippers. The second floor had some booths were 2-3 people or a couple could leave their stuff or change clothes. We got number 13.
We didn`t need to take absolutely anything with us - no bathing suit or towel, or any cosmetics, because they provided us with everything. The Turkish boy gave each of us a linen tartan bath clothing (it even reminded of something Latvian) - shorts and bras for women and loin-cloths for men. Like a bunch of clumsy ducklings accompanied by the sounds of the wooden flippers clacking on the stairs and then on the stone floor, we went inside the sauna.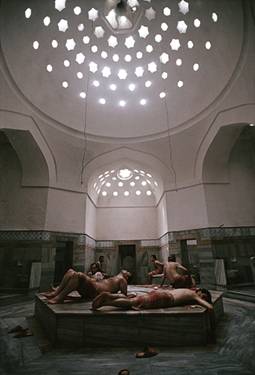 Everything inside made of white marble, the floors and the podium in the middle of the largest room, everything`s heatable. Initially we lay on this big "table" for an hour, looked in the night sky through the holes in the ceiling, our backs and sides were warm and we sweated thoroughly. If someone couldn`t bear this, they could come to the water tap built into the wall, draw some water with a metal bowl and throw cold water on themselves. The spilled water immediately left the room through a gutter in the marble floor.

After approximately half an hour the bathhouse attendants invited us for scrubbing and massaging. Four bathhouse attendants bustled around the hamam - all men who scrubbed and battered the tourists. I must say that we didn`t see any women working in service or marketing spheres in Istanbul - all the bathhouse attendants, sellers, food makers, waiters and hotel managers everywhere were only men.

Everything started by taking a seat on the floor and the usual "What is your name? Where are you from?", then I felt two sprays of a rather cold water over my head. The bathhouse attendant with a sharp glow and quick powerful movements rubbed my hands, feet, back, shoulders. Something like a peeling procedure. He asked me if it was OK if he shampooed my hair. Again a couple of sprays over my head, I barely managed to breath. Immediately after that he asked me to lie on the sweating shelf, where I got the so-called soap massage. Initially the body is covered with thick white foam from a big bag of soap, then with strong, rather rough hand movements the back, hands, nape and also, after turning around, the forehead and shoulders get a little bit massaged. It differed completely from the soap massage I have enjoyed in "Sokolovskije baņi" in Jurmala. Well, so to say, if someone has got used to a relaxing massage then this was something completely harsh. I as a woman were not so much battered as Erik who didn`t look so happy.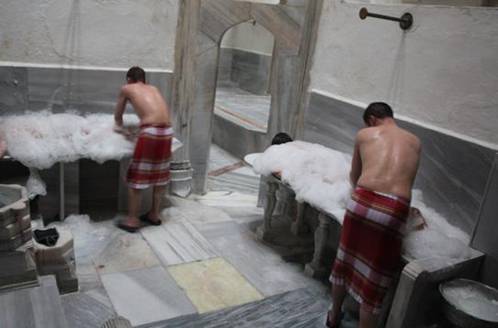 After all these procedures, we went into a smaller room where we could shower again and take off our wet clothes. Behind the door the Turkish boy was already waiting and wrapped us into two more towels. One towel was wrapped around our hips, the other - around our shoulders not to get sick after sweating in the bath, and the third - around our heads. We were able to sit in the lobby, drink some tea or Turkish coffee if we wished to and for extra charge. We tried Turkish tea (a usual black tea) for 2TL (around 0,50LVL). The experts chose apple tea because it is very popular in Turkey.
After changing we were allowed to relax a bit in the hall on patterned cushions, where another tourist group from Germany was already waiting. As we were leaving, we were offered rose water for the face and candies of different taste. So that when we were driving back, the van smelled like rose water and the candy paper was crunching.
Overall this trip costed 35EUR each. My conclusion - it was worth experiencing it just to know what a hamam is. Even though everything went smoothly without the everyday rush, I felt the presence of a conveyor principle, because the bathhouse attender didn`t concentrate that much on the "individual approach" - the massage was done very quickly, even leaving bruises on my legs (but that`s rather subjective because I bruise quickly if someone press it strongly). The lying, being warm and looking in the sky left the best impression - a small moment of relaxation. Overall, the feeling and sleep after the bath was good, despite the absence of air and the heat in the hotel room.
If anyone plans to visit Istanbul, an evening in hamam can be reserved here -www.suleymaniyehamami.com