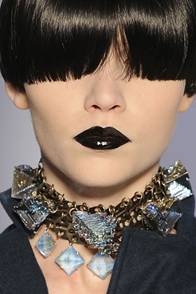 About this theme made me think work partners saying about my new necklace – golden long chain with heart, on which is yellow little stones, which in unnatural light, lovely glittered. She asked to me – is this jewelry with some meaning? I answered that it's nothing special, just new accessory, which in my opinion good fits with black dress. She said, that it's not just for beauty, if women choose jewelry, especially like that, which attaches other attention. Jewelry are like surrounding and not good eye attacher and with it negative energy distracter from the person itself.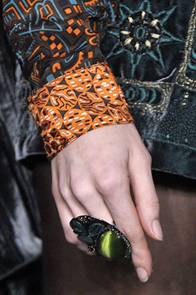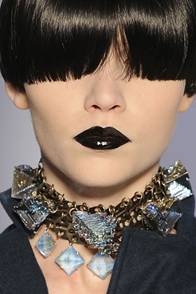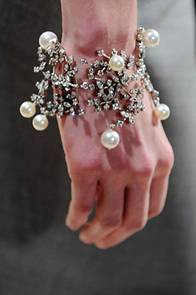 There came in my memory my mom's said too – how you were, woman always needs to be in her finger/s golden ring/s and although simple, but golden chain on her neck. In the beginning I didn't even try to get in this saying thought, because it is like that, when older and smarter people give us an advice, we get them, just then, when we have experienced them on our skin.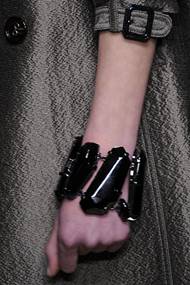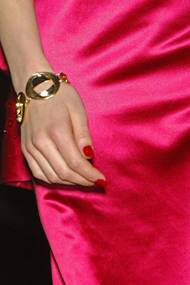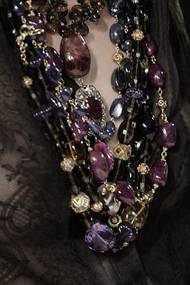 Images from 2008/2009 autumn-winter collection
This life item seems to be as old, as the world itself, got from one generation to another. Reading and looking on old tribe adorning traditions, can see, how big meaning was for jewelry and signs (about them is another story), which are coined or lapidary in them. For some tribes even was a condition, that some jewelry, after initiation rite, are dressed or coined around neck or arm. Jewelry as like belonging sign, as like the protection.
"About crown and all jewelry set, the Latgalls woolen shawl with crosses and other signs, is an opinion, that in costume and in jewelry is set world model. Every human is part of the World and arms, creating about himself microcosm in surrounding macrocosm." – so was said about ancient jewelry using meaning.
If we look to archeological costumes, then you can see some kind of jewelry richness in our ancestor costumes.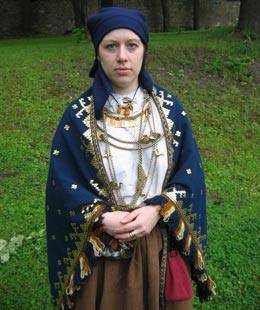 Inhabitant of Latgal woman costume 11 – 12 century reconstruction
But returning back to nowadays – so as for Latvian woman isn't typical to adorn themselves loudly with heavy brooches,ringswithlarge stones, etc., it's important to understand jewelry protection function. In my opinion, it isn't important that how big or bright is this jewelry, but its originality, delicacy and harmony with costume. Of course, it's ideal, if this jewelry is made of hallmark – gold or silver, with real crystals or stones. If before on bijouterie I looked with some kind of protection and not from free mind I chose "not real" jewelry, then now I think that, any qualitative and harmonized jewelry can give some hotness for outfit and … to protect.