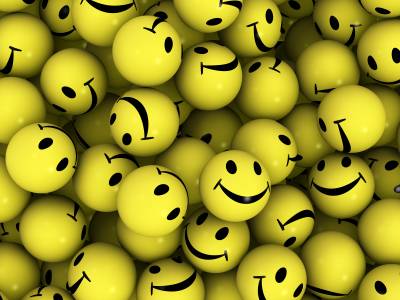 The concept of happiness is well known as in philosophy, as psychology, as etic. Happiness is looked as constant humans psychological state, as moment euphoria, gleam. Yesterday I watched documental film, where the happiness constant was analyzed in country, nation meaning.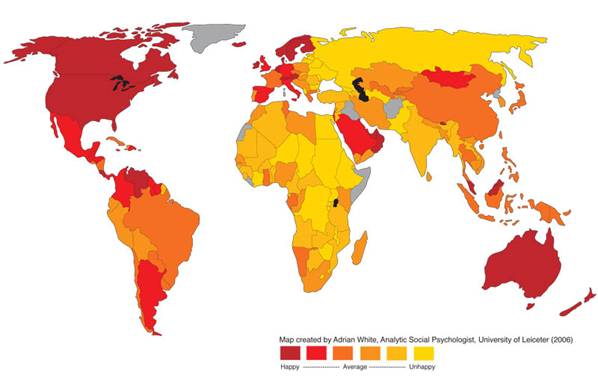 The World Database of Happiness
Analyzing causes, of course comes to causation that stability and safety feeling, which is ancestral from generation to generation is very meaningful premise that is needed in order to human felt happy and safe. Exactly in countries, which in historical happenings almost every century or every generation have went through changes (wars, revolutions, economic crisis, political system exchange etc.), inhabitants feels depressed and unhappy. Not in vain oriental people have a course "Live in change time". After the map we can exactly see, that they are typical soviet countries.
Countries, in which people feel happy, are Iceland, the Netherlands, Switzerland, Sweden, Austria, Canada, USA, Norway and Australia. Who is happy person after done researches? He's safe, self-sufficiency and active, not looking on age. As an example listed Scandinavian family already aged, were wife and husband – one still working, other already in pension, whit big child, who already have their life – every week does about four activities. It's as sporting – Nordic walking, fancy working, opera, free of charge driving school etc.
In documental film we hear a thought, which the feeling of happiness needs to be independent, natural human state, not short, stormy adventure. Suffering, which noble nature is known in Russian literature, actually doesn't make people better, but rather breaks their personality. Unfortunately, to draw an analogy with Latvia, suffering is self-evident in our culture too, in literature, art and education. We catch suffering as self-evident in our life. Have you heard in childhood a saying from adult – don't lough so much, so you need to cry so much! But, if we think about it, what's so bad in that we feel happy, jump because of happiness? Are these fear about future and instilled skill to feel happy isn't our nation unhappiness feeling Couse?