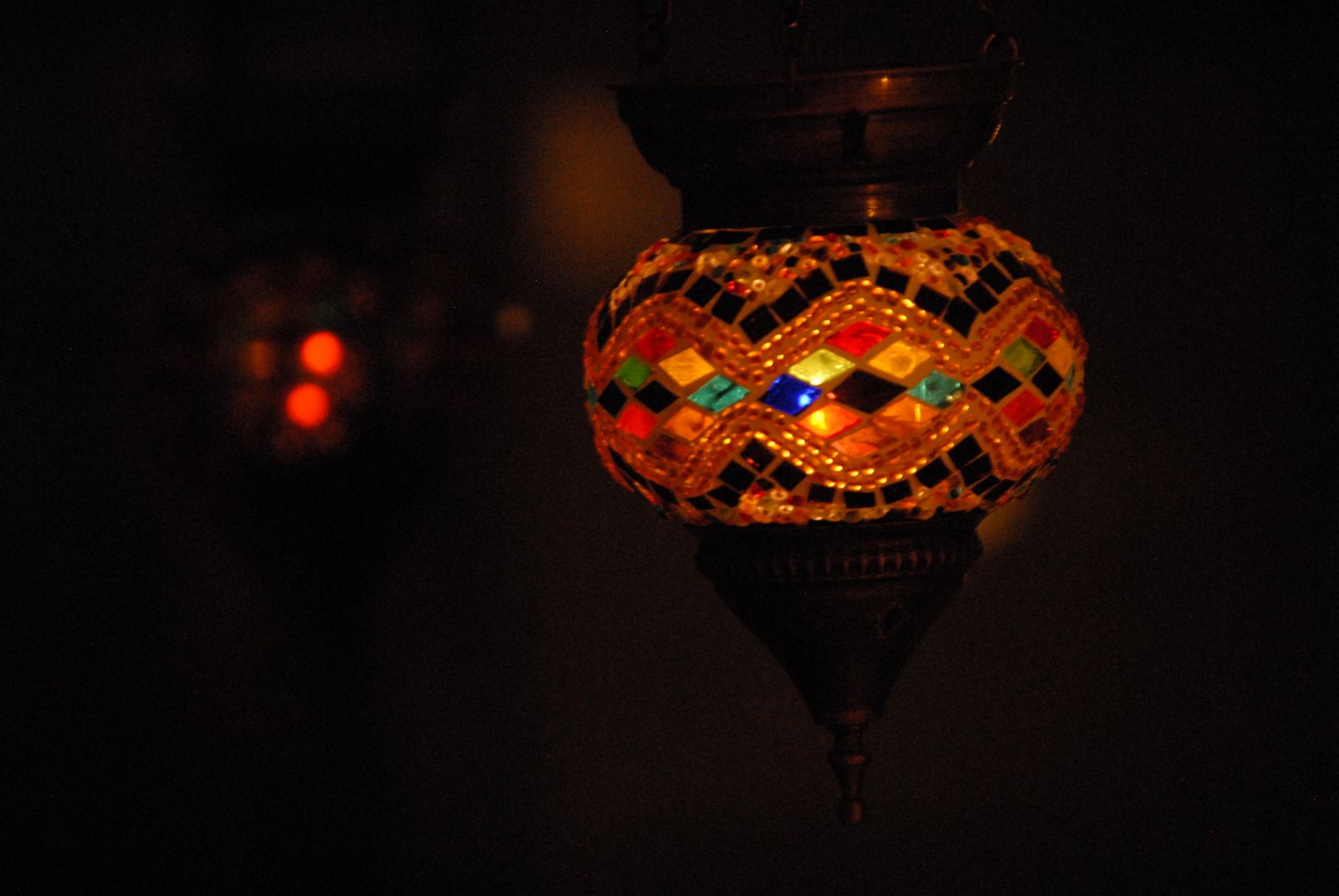 It has been often heard that bargaining for Turkish people is a popular national sport; this summer we made sure this is completely true! We visited and shopped in two bazaars in Istanbul - Grand Bazaar and Spice or Egyptian Bazaar.
The first one of them, the Grand Bazaar is a complete craziness - streets covered with painted vaults for numerous blocks, thousands of shops that flicker in any possible colour, items stored in numerous shelves, talkative sellers (100% male) who talk to you in Russian and English and ask you to come in to immediately start "manipulating" with you.
Like an elaborated ritual:
first step - to lure the buyer;
second - "measuring" the buyer and using questions like what's your name? and where do you come from?, respectively, if they come from a wealthy country and how capable of paying they are;
third step - an abnormally high price is named (in their view because to us, after the prices in Latvia, it`s nothing) and an impatient waiting for the bargaining to start - it`s too expensive! and you will name a 2,3 or even 5 times lesser price;
fourth step - a fake indignation "madam, it is hand made! ", who do you think you are?, but almost ready to sell.
And so with each seller and everything starts from the beginning again. No prices are labelled anywhere in the Grand Bazaar, so there is no way of knowing how much does this and that cost in Turkey. In addition, it is interesting that not a single facial expressions or gestures should indicate that you really like the item and you are ready to buy it. Instantly the interest in you is lost and if there is nothing you could possibly need then the seller`s eyes sparkle up and they are ready to creep out of their skin to sell you something. We realized that everything is determined by two things - time and patience. Unfortunately, that day we had neither one of them.
It is very easy to get lost in the Grand Bazaar because there are several exits. To buy something useful and cheap you must spend your whole day here - you will get nothing good from rushing. After wandering around the bazaar for a while and having our foreheads wet not as much from the heat as from the loss of energy due to the communication process with the sellers, we realized that we have to buy something.
We stopped by a water pipe store where the owner of the place, seeing a curious woman sneaking around the pipes, asked us to sit down and spun a long yarn about how to operate it - where the water should be pored, how to put the tobacco in, where to put the burning coal etc. We were happy that we could rest our legs and heads from the hustle and bustle of the market. As a result we were ready to buy a pipe for the named price without any bargaining in order to not hurt his seller`s spirit; we managed to cadge some tobacco, coal, coal tweezers and pipe flanges though.
We couldn`t also resist the beautiful lanterns that were sparkling in a richness of colours; also I promised myself to bring one of them home for my living room from the eastern bazaars. There we were also welcomed as their guests (that is one nice ritual there) - asked us how we liked Istanbul, gave us some water (sometimes we were offered tea or coffee from small, subtle cups), took off of the ceiling different lanterns and showed us how they glimmer in the light of a bulb or candle. At the end we took pictures together and hugged as brothers.
Everywhere you turn - souvenirs, jewellery, hotels and on the walls of the shops - all of them have the blue eye (even glass penguin figurines have one on their stomachs). It turns out that Turkish people are quite superstitious, because they blindly believe that the blue eye protects you from grudging.
If the Grand Bazaar is for buying different dishes, carpets, gold, pipes, and handkerchiefs, then the Spice Bazaar, which is located near the Galata bridge next to one of the many mosque, is for gourmets and your belly. The bazaar is an "L"-shaped building - much smaller and more lucid.
There you may feel overwhelmed by the scents and flavours. We started by buying coffee in a specialized shop next to the bazaar. 100g Turkish coffee - 2TL with the ability to choose packages of different size. Then we went to try out different spices and the much praised eastern sweets. The prices of the spices ranged from 38-40TL/kg. Saffron, cinnamon, turmeric, tarragon, marjoram, various spice mixtures for meat and fish. Tea hills - we were confused by the many aromas. The popular apple tea, rose petal tea and numerous others. We ate the sweets for free, without buying anything, because they gave us to taste different sweets and recommended the best ones. The most popular candies - lucuma (16LT/kg) and baklava (38LT/kg).
The prices were labelled everywhere so that we could relax, only allow or not allow selling sweets as much as possible in terms of grams. Basically the attitude of sellers here was not so insistent, we could linger longer looking at some desirable shawls embroidered with different designs and stones, or different blankets or pillows.
Continuing about the gourmet pleasures, we tasted Turkish coffee in several places, which was served in small espresso cups but was not strong enough to drink the served water with it. I as an experienced coffee drinker did not consider this coffee to be strong at all compared to the one I tasted a couple of years ago in Spain. In Istanbul we also tried the traditional unleavened bread with various fillings, kebabs, fried corn, which were practically sold on every corner, along with large soft bagels with sesame seeds.
In general, our meals always consisted of cold snacks, which I didn`t really like, nor did it go together with soup, main course or fruit. A dessert as we know it in Latvia is practically not served anywhere - they always serve fruit or berries or offer the same baklava or halva. We were surprised by the local yoghurt (or something like that) in the hotel that came together with cereal, fruit or vegetables. Extremely acidic. About the drinks - the beer was assessed as "nothing special" by an expert, and the white wine that I liked to have together with the meal, was always chilled and enjoyable.
Looking back at visiting the bazaar, I must say that a Latvian person does not really know how to sell things, nor how to bargain (saying, it`s infra dig). In addition, reviewing what was bought in the Spice Bazaar would be nice to have such a bazaar available several times a year. The food I`m preparing now at home using these spices really tastes much better.